Post your steps online
#STEPUPFORAUTISM
Your steps are KEYS to unlock barriers of autism awareness in your community.
How to join:
Use an app on your smart device to count your steps as you go for a walk/run/do everyday activities

Post your number of steps on Social Media (even one step helps)

Include #stepupforautism and #thestepschallenge in your post, 

and set post to public

Challenge your friends to do the same
Let's reach 100 million steps together to raise awareness about autism in Vietnam, and get a chance to win special rewards.
Step up on May 25th
THE STEPS CHALLENGE
STEP UP for autism by joining us on May 25th 2019 at Vista Verde, HCMC
Register as an individual, it's free! Each individual will receive on the day the 2019 Steps challenge T-shirt.
Register as a team of 5 (1,250,000VND for the group) or 10 (2,500,000 VND for the group) and enjoy exclusive benefits:
The 2019 Steps Challenge t-shirt
The Step Up team kit (BIB, String bag, goodies)
Fast lane access for Steps Challenge kit collection at the entrance, and to all challenge stations on the day.
Entrance into the Steps Challenge contest, which will reward the top teams that contribute the most steps to support autism in Vietnam.
Join the movement on May 25th and run, walk, dance and exercise as much as you can to reach 10 million steps and unlock USD 25,000 from CapitaLand for autism in Vietnam.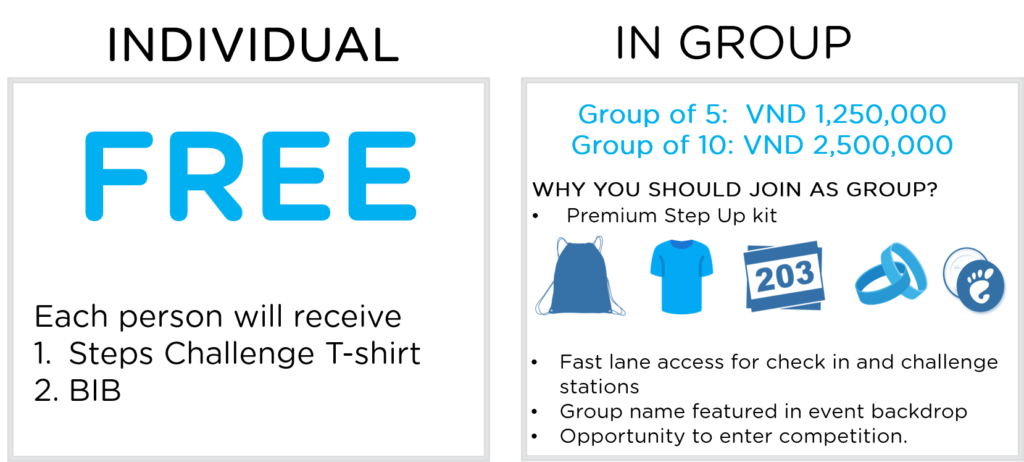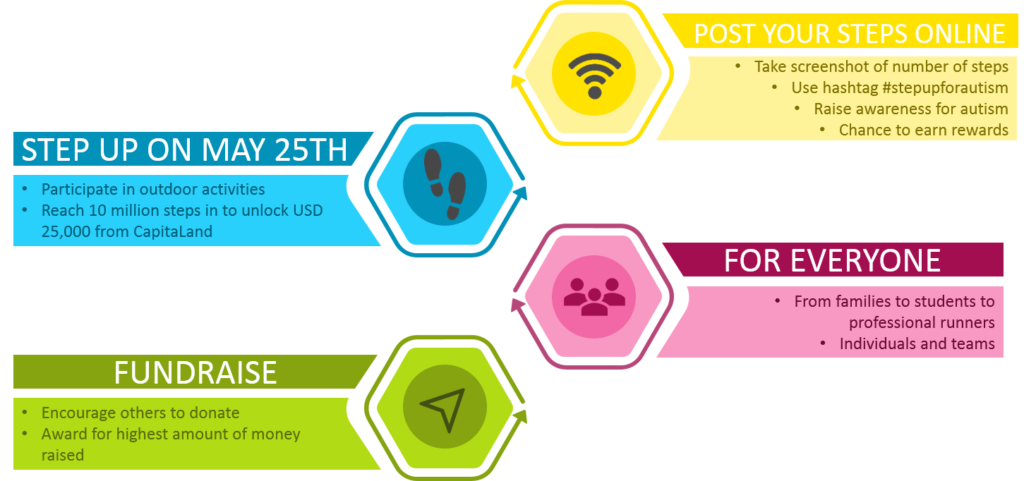 Since 2009, Saigonchildren Special Needs Education Programme has supported
Saigon Children's Charity CIO (saigonchildren) was founded in 1992 to help disadvantaged Vietnamese children get an education and a fairer start in life. Saigonchildren works exclusively in Vietnam and is committed to overcoming barriers to education for children, including poverty, geography, knowledge and disability. Since 2009, Saigonchildren runs a special needs education programme focusing on capacities building of Vietnamese professionals, with a recent focus on early intervention education for children with autism. We have already reached more than 10,000 children, will you help us reach thousand more?
Fundraise for this
WANT TO DO MORE?
Even if you cannot join us on May 25th join the movement by becoming a fundraiser and call for donations on behalf of saigonchildren
How to fundraise:
Create your page by clicking on the "I want to fundraise" button. You will receive an email in the next 48h from our team welcoming you.

Start reaching out to people close to you through word of mouth or email.

Post on social media.

The top 3 best individual fundraisers, will be awarded with a special prizes.

You have until Sunday May 26th midnight to raise funds for autism in Vietnam.
Who will win our top fundraiser award to support autism in Vietnam?
7:30 AM – 11:00 AM
25th May 2019
Faifo Lane, Vista Verde, District 2, HCMC